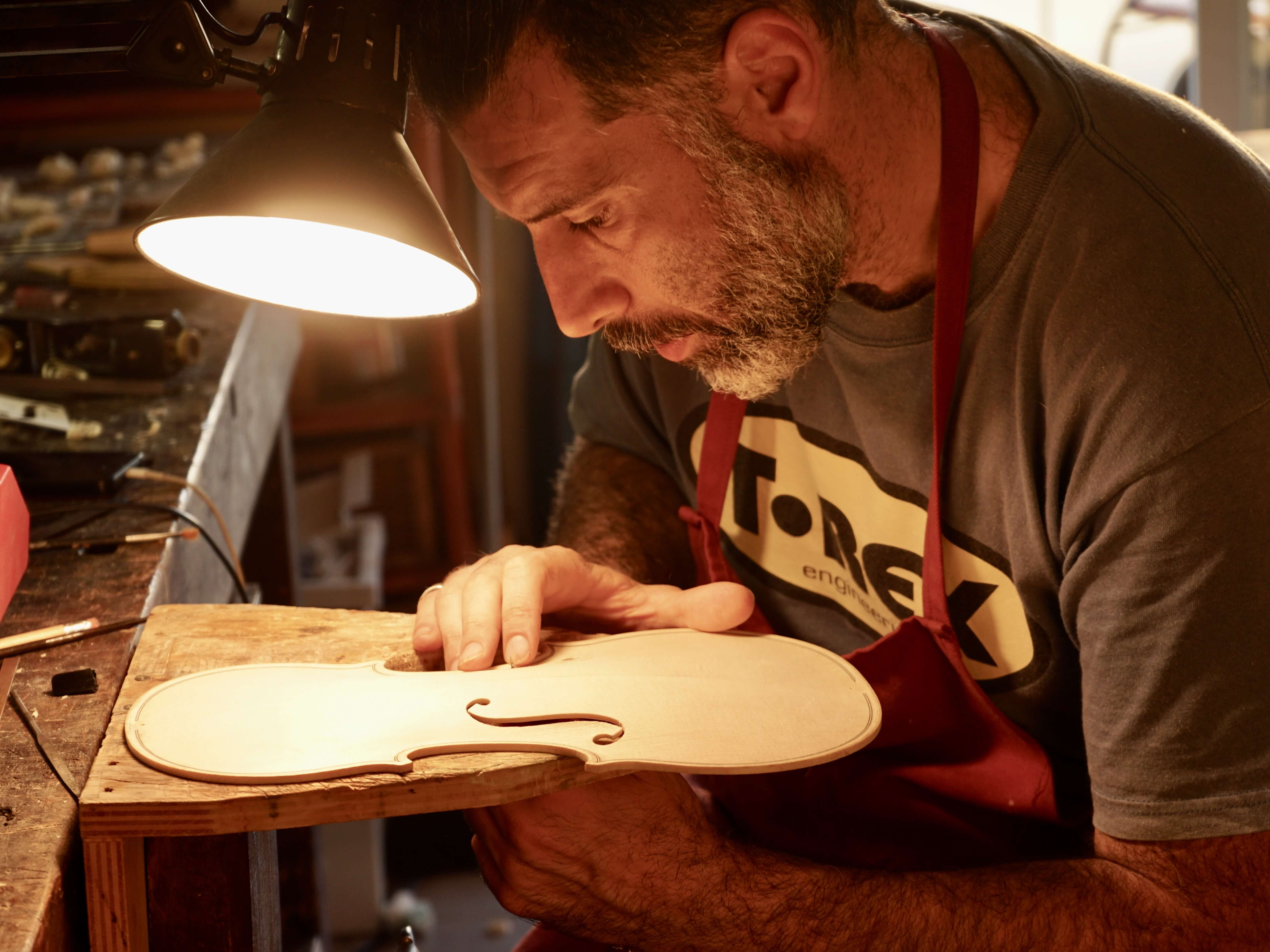 I started to get interested in lutherie around the age of 20, after having visited occasionally, first as a client - amateur guitarist, then as a curious one, some Roman workshops specialized in making and repair guitars and mandolins.
In 2002, at the age of 22, I enrolled in the Master violin-makers and bowmakers school in Gubbio, founded by Maestro Guerriero Spataffi, where I graduated in 2004. In these years, although I have not lost the love for classical guitar, I shifted my attention to violin-making.
The diploma was followed by courses in
set up
and
restoration
: subjects to which I have devoted much energy over the years. From 2007 to 2011 I worked as a manager of the "Bottega" workshop of the Musicarte store, located in Rome, where I had the opportunity to work on numerous instruments and to deepen fundamental aspects of their acoustic adjustment. In 2008 the meeting that imposed a decisive professional turning point to my understanding of
violin-making
: the one with
M° Giampaolo Savini
(1943-2015), violinist and exceptional
violin-maker
whose name will never be adequately remembered compared to what he gave to contemporary
violin-making
. A pupil of the 20th-century giant
Ansaldo Poggi
, Savini was a mine of knowledge and a brilliant maker. Tradition and passion characterize his instruments. The care for sound and style is a sign of recognition of the great Bolognese tradition of which he was a living interpreter.
I had the good fortune to have enjoyed (and still use) his teachings and his generosity for about three years, in never enough long mornings spent in his workshop and to have subsequently attended it until the day of his untimely death. In 2011 I founded, in partnership with my friend and colleague Claudio Chioccia, the Rome-based company Chroma Officina dei Violini. In this workshop I had the opportunity to sharpen my skills in
restoration
and
set-up
and to consolidate excellent professional relationships with many musicians.
In 2015 I left Chroma and I moved part of my business to
Padua
, where I intensively resumed the
making
of violins, violas and cellos, even though I did not abandon the repairs to which I still dedicate myself with passion.
From 2018 I am again in
Rome
, more precisely a few minutes by car or train, in the nearby and peaceful
Ladispoli
, where I opened the current
construction
and
restoration
studio.